5 Tips For Homebuyers Who Want Their Offer Accepted In A Sellers Market
Published: Dec 17, 2020 | By Joe Jennings
5 Tips For Homebuyers Who Want Their Offer Accepted In A Sellers Market
With an increase in home buyers enjoying the historic low interest rates, and with fewer good homes available, buyers are competing even more than ever for that perfect dream home.
It's important for a home buyer to know how to make an offer that will be competitive and accepted.
Make sure your Realtor is willing to accommodate and understand what the seller is looking for
Negotiation and the willingness to budge are fundamental parts of the process of the home purchase, it is even more important in a seller's market. Remember, not everything is negotiable in a seller's market. Make sure your Realtor knows what is and what isn't. You can always ask for what you want, and while you may or may not get it, that option may stop you from closing the sale. For homebuyers situated in a seller's market, however, options are severely limited with the potential of not having the flexibility you would expect in normal off seasons.
Keep the contract clear from contingencies and demand
While some contingencies are fairly standard, if you intend on making your offer hold up, a clean contract is a must! The best way to make your offer stand out is to keep the offer as clean as possible. Don't put in a lot of contingencies or demands. Homebuyers looking to sway sellers should submit an offer that contains the fewest number of contingencies as possible. This will not only help get your offer approved, but if you get involved in a bidding war, it could be the deciding factor for the seller. Contingencies could create a trust issue. Weighted contingencies have a tendency to give sellers the wrong impression and in some cases, especially if the seller has an emotional tie to the home. I suggest a letter on how much you love the home and how much it means to you to be able to buy such a fabulous home.
Shorten the Terms and conditions
Every seller loves a quick close. The sooner it's sold the sooner they are able to move on. If you have contingencies make sure you do your best to have them resolved as quickly as possible. Have your financing and inspections ready to go! The minute your offer is accepted, have your Realtor schedule a general home inspection. In addition, ask your lender to order the appraisal once your offer is accepted. In order to make yourself as appealing to the seller, homebuyers should reduce as much uncertainties as possible.
Cash
Nothing is more impressive to the seller than the almighty cash offer. Not only will it give you a huge advantage over other buyers, but nothing says you're serious quite like cash. Increasing your down payment, sellers like a financially strong buyer. A cash offer almost always trump's an offer with financing involved. Making a down payment larger than the typical 20 percent will show the seller commitment. If possible, make a cash offer and finance after the purchase.
Be Ready to Move Quickly
This is something I can't stress enough. As soon as you find the right home for your needs, be prepared to have your Realtor submit an offer as quickly as possible. According to the Realtors Confidence Index, published monthly by the National Association of Realtors (NAR), the average property being sold today is receiving more than three offers and is only on the market for a few weeks. Make sure your Realtor has reviewed the various contracts and addendums needed prior to finding that dream home.

Final note in summary: Let Your Realtor Help You through the process
A recent article from Freddie Mac offers guidance on making an offer on a home in today's market. Right off the bat, it points out how emotional this can be for buyers and why trusted professionals like Joe Jennings, Owner and Broker for Sunny & Associates Realty can help you stay focused on the most important things, like the joy of buying a new home.
Joe's support and expertise will guide you through the home buying experience, not your emotions. Give him a call today!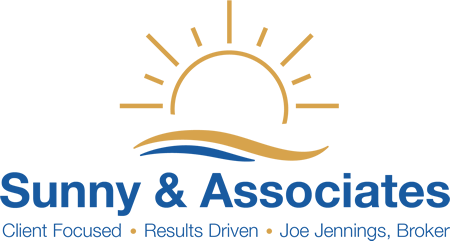 Top Rated Real Estate Broker
Real Estate Markets: Plantation, Davie, Cooper City, Pembroke Pines, Weston, Sunrise, Fort Lauderdale, Boca Raton, Port St. Lucie, Vero Beach and Tallahassee Florida.