Relocating or Moving to South Florida? Pros, Cons, & Home Search Tips
Like all places, South Florida has its pros and its cons.
Published: Feb 13, 2021 | By Joe Jennings
Relocating or moving to South Florida? Here are some Pros & Cons to your next Adventure
Like all places, South Florida has its pros and its cons. With the number of people moving to South Florida each day it is obvious the Cons have no effect on the many Pros of moving to SoFlo. Whether you are relocating for work or retirement, South Florida is made up of many people who moved from all over the world, so it is easy to make friends. You will always run into someone from the area you left behind. We've heard these stories a hundred times while helping people relocate to South Florida.
The Pros of Moving to South Florida
South Florida is a great place to live. Why do you think that the population is more than 6 million?
Here are some of the things people love about living in South Florida.
No state income tax
World-class beaches
Entertainment options than just about anywhere else in the world
Huge events such as Super Bowl, Collage Football National Championship. Major cultural events like Art Basel and Boca Raton Concourse de Elegance.
The Sunshine. That is why we are "The Sunshine State"
If you love the water, it's the best place to be!
The Cons of moving to South Florida
Hurricane Season. It is important to have a plan in place and your home has the necessary hurricane protection. Sunny & Associates can help with that.???????
Summer heat. "You might as well be walking on the Sun". Don't leave chocolate or crayons in your car.
Insects, Alligators and Iguanas. Except for the iguanas, they were here first
Everyone wants to visit during the winter. Prepare to have a guest room or a great hotel around the corner. Maybe both to be safe
Not Knowing the Area. Not all areas of SoFlo will be right for you. It's important to find the neighborhood that's the right fit for you. Joe Jennings, Broker for Sunny & Associates has over 40 years of South Florida neighborhood knowledge. He will find the best neighborhood for you and your family
CHOOSING A HOME. Does size matter?
Sometimes people will over estimate the interior size or under estimate the amount of yard or exterior space needed. Because home prices can be so affordable compared to other metropolitan areas, some people will buy much more home than they need. It is important to remember how much time us SoFlo residents spend in our pools and our patios. 
Hiring a Real Estate Company that understands the Stress of Relocation
Having Joe Jennings / Sunny & Associates as your agent on board when you move to South Florida is especially vital. Joe and Sunny have over 40 years of local knowledge. That means that you're much more likely to end up in the area that is right for you and your family. We will do our best to make sure the amenities that are important to you are close by. We will keep things going while you focus on moving out of your home to start the next chapter of life in South Florida.
Our duties include but not limited to the following:
Home search while you're attending to your affairs at your current home.
Negotiate sale or lease terms.
Moving the sale contract forward or researching landlords and property managers if renting.
Find amenities such as pet groomers, hair stylist, gyms, auto mechanics etc.

Joe's support and expertise will guide you through the home selling process. Give him a call today!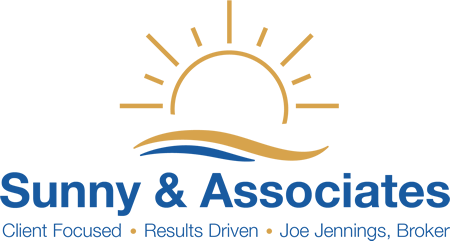 Top Rated Real Estate Broker
Real Estate Markets: Plantation, Davie, Cooper City, Pembroke Pines, Weston, Sunrise, Fort Lauderdale, Boca Raton, Port St. Lucie, Vero Beach and Tallahassee Florida.