The Future of Mortgage Rates… Experts Say "Think like an Investor"
Published: Sept 29, 2022 | By Joe Jennings, Broker, ABR, PPM, CAM
Reference: Frank Lillo, Pharus Home Mortgage & Keeping Matters Current
The Future of Mortgage Rates… Experts Say "Think like an Investor"
If you've been thinking of buying a home, you may be in panic with what is happening with residential mortgage rates over the past year. Yes, it's true they've risen, but where will they go from here, especially as the market continues to slow?
Experts Project Mortgage Rates Will Stabilize
While mortgage rates continue to fluctuate due to ongoing inflationary pressures and economic uncertainty, experts project they'll start to stabilize in the months ahead. According to the latest projections, mortgage rates are expected to hover in the low to mid 5% range for a while. As you think about your homeownership goals and decide if now's the time to make your move, the best place to turn to for that information is the professionals.
Inquire About Financing here.
I reached out to Frank Lillo, Sr. Loan Originator at Pharus Home Mortgage for his views on residential home mortgages. Frank tells us, "There's much talk and concern recently about mortgage rates and how that's affecting potential buyers. The traditional thought process is to avoid buying now because "rates are high". However, if residential buyers were thinking like an investor thinks, they'd weigh all of the options and run the numbers to help make a decision." Frank's example below is a common scenario that emphasizes how a home buyer should view their purchase like an investor thinks.
Purchase price $ 500,000
20% down payment 100,000
Loan amount 400,000
30 year fixed loan
Principal & Interest at 4% $ 1,903 per month
Principal & Interest at 5.5% 2,261 per month
Difference due to rate is 358 per month
So, you decided to rent for a year hoping rates could come down within the year. Let's use $ 2,500 per month rent for our example.
12 months x $ 2,500 = $ 30,000 is total rent for a year.
If you obtained a mortgage per the example above, you'd be paying about $ 358 more per month. But if you look at the $ 30,000 in total rent paid divided by 358, you'd be ahead of the game for at least 83months, or close to 7 years. If rates go down in the next 7 years, you could have the option to refinance to a lower rate; or you may end up selling your house in 7 years or so. Either way, you're building some equity along the way. That's how to analyze a purchase decision like an investor.
In Conclusion
Whether you're looking to buy your first home, move up to a larger home, or even downsize, you need to think of your dream home purchase as an investment in your future to "Build Wealth through Real Estate". Give Joe Jennings, at Sunny & Associates a call, he can put together a compressive Buyers Plan the is perfect for you.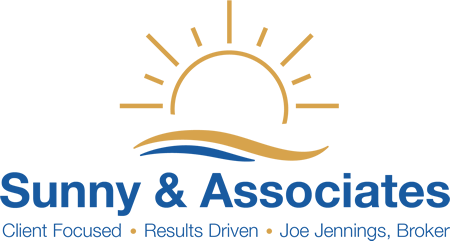 Top Rated Real Estate Broker
Real Estate Markets: Plantation, Davie, Cooper City, Pembroke Pines, Weston, Sunrise, Fort Lauderdale, Boca Raton, Port St. Lucie, Vero Beach and Tallahassee Florida.